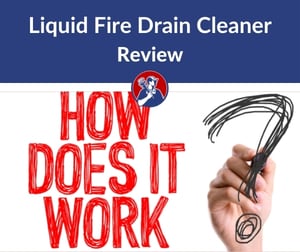 Whether you need to unclog a drain filled with toothpaste, clay mask, hair, or grease, when you have a drain clog, you need a product that will work and work quickly.
With an impressive rating on Amazon, you may consider buying Liquid Fire drain cleaner to clean a clog in your home. However, will it work for your needs? We do the research for you in this detailed review of Liquid Fire drain cleaner.
In this PlumbingNav review, we cover:
Pros and cons of Liquid Fire drain cleaner
Key features of Liquid Fire drain cleaner
Review of Liquid Fire drain cleaner
How Liquid Fire drain cleaner compares with the competition
What Are The Pros And Cons Of Liquid Fire Drain Cleaner?
Advantages of Liquid Fire Drain Cleaner
Works in Multiple Parts of your Home
You can use Liquid Fire drain cleaner in a wide range of locations, including:
Bathroom sink
Kitchen sink
Tub/shower
Works Quickly
The manufacturer says this caustic cleaner works in as little as 15 minutes, making it a great option for an emergency blockage that requires immediate attention.
Do not leave the material in your drain for longer than 30 minutes, or it will be more likely to damage your plumbing.
Disadvantages of Liquid Fire Drain Cleaner
Not Appropriate For All Of Your Plumbing
This product is serious business. You need to read the instructions and follow them carefully. You do not want to use this product to break up debris in cast iron pipes, your septic system, or garbage disposal. See this post for the best septic tank treatment products.
It also isn't safe to unclog a toilet, since acidic cleaners can eat at the wax seal around your toilet, creating a toilet leak. A toilet leak can lead to higher water waste and possible water damage in your bathroom.
Some users report damage to older plastic pipes, bathtub finishes, and chrome faucet finishes. You should follow the instructions carefully, and test on finishes in an inconspicuous way if you're concerned about this risk.
Contains Sulfuric Acid
One of the main ingredients in Liquid Fire drain opener is Sulfuric acid. Sulfuric acid may eat at clogs, but it also may damage iron plumbing pipes. You should wear gloves and goggles and keep the product out of the hands of children and pets to minimize the possibility of chemical drain cleaner poisoning. Read and follow the directions.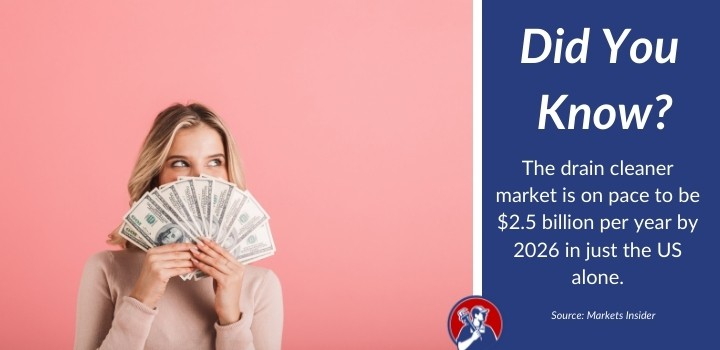 What Are The Key Features Of Liquid Fire Drain Cleaner?
Highly Effective Acidic Drain Cleaner
This sulfuric acid drain cleaner can eat at a wide range of different types of clogs thanks to its power. However, this power can cause the deterioration of your plumbing system, especially if not used exactly as directed. If this concerns you, consider a natural enzyme drain cleaning alternative.
Easy to Use
As a liquid drain cleaner, Liquid Fire is easy to use. Simply pour the cleaner down the clogged drain or slow drain. After 15 – 30 minutes, rinse with cool water for free running drains.
Our Review Of Liquid Fire Drain Cleaner
Liquid Fire Customer Service
Liquid Fire drain opener is sold by a company called Amazing Products, Inc based in Louisville, KY.
Some have reported damages to fixtures, faucets, or finishes. We are not sure how they respond to complaints like these, especially if you don't use the product as instructed. We do not represent the company, or speak on their behalf.
How Do You Contact Liquid Fire Customer Service?
If you do run into an issue or have a question, feel free to reach out to the company's customer service line during regular business hours at 502-361-3655. Here is a link to their BBB listing. At the time of this writing, they maintain an A+ rating at the BBB.
Ease of Use
Liquid Fire is easy to use as a liquid drain cleaner, but you must follow the directions and take safety precautions. After you pour the cleanser down the desired drain, rinse it with water.
You won't need to mix anything like you would if you made a homemade mixture from baking soda and vinegar or a powder commercial drain cleaners.
Safety Issues
Since sulfuric acid is one of the main ingredients in Liquid Fire, there are certain safety precautions you may want to take in order to prevent harm to yourself or your plumbing. You don't want to leave it in your PVC pipes too long.
Store the cleaner, and all cleaners, safely out of the reach of children and pets.
When you do use the drain cleaner, use the proper protective equipment and follow instructions precisely.
Overall Effectiveness
While reported by reviewers to be extremely effective, you need to be careful not to allow the acid to negatively impact your plumbing pipes. Always follow the directions and diagnose the problem correctly to ensure you don't cause more damage than good.
How Does Liquid Fire Drain Cleaner Compare Against Competitors?
Liquid Fire Drain Cleaner vs Drano
Liquid Fire Drain Cleaner and Drano work about as effectively as each other, with Liquid Fire taking a marginal lead. However, Drano is safer for your pipes than Liquid Fire. See this post for our Drano Max review.
Liquid Fire Drain Cleaner vs Green Gobbler
Liquid Fire is a caustic drain cleaner, while Green Gobbler uses safer ingredients that won't damage any of your plumbing. However, an enzymatic drain cleaner costs significantly more, and they don't work as well as a product like Liquid Fire that uses harsh chemicals. We still like it as a safe and environmental option if your clog isn't too serious. See this article for our full Green Gobbler review.
The Bottom Line On Liquid Fire Drain Cleaner
When you need to break up clogs, such as soap scum or grease, you need a chemical drain cleaner like Liquid Fire. It will eat at whatever is causing your clogged drain, but be careful to use it according to the directions.
FAQs for Liquid Fire Drain Cleaner
Does Liquid Fire Drain Cleaner work?
Liquid Fire drain opener is reported to work as well by many reviewers thanks to using sulfuric acid as the main ingredient.
Is Liquid Fire safe for drains?
You can not use Liquid Fire as it's not safe for cleaning cast iron pipes, your septic tank, or a full toilet bowl.
How long to leave Liquid Fire in drains?
Leave Liquid Fire in your drain for 15 – 30 minutes (no longer!), then fully rinse out of your plumbing.
What is the strongest liquid drain cleaner?
Liquid Fire proves to be one of the strongest liquid drain cleaners on the market. Drano follows at a close second.
Meet Your Plumbing Navigator

About Plumbing Navigator
We're passionate about all things plumbing, and love sharing tips, "how-to", and reviewing the latest products to help make your project a success!
Learn More Plumbing Tips
Want to tackle more plumbing projects? Check out these helpful guides!