Do you need an easy way to find your lid and access your septic tank? Most residential systems come with septic tank risers that provide easy access to the septic tank, but these can also be installed after the fact. 
Many homeowners don't know much about their septic tank, let alone septic tank risers. However, some knowledge can be beneficial. Let's get into it!
In this PlumbingNav review, we will cover:
What are septic tank risers?
What are the benefits of septic tank risers?
Pros and cons of using access risers to septic tanks
What are the different types of septic tank risers?
Where to buy septic tank risers
How to install septic tank risers and lids
What are Septic Tank Risers?
Septic tank risers are vertical pipes that connect to your septic tank's pump-out openings or access port. They extend up from the ground surface and have a cover. Despite the name, these are not the same as a riser in the plumbing world.
The septic riser gives homeowners and professionals access to the buried septic tank when it's time to check if your septic tank is full, for general maintenance, or when it's time to pump it out. 
Newer homes will often come with septic tank risers by default. In fact, almost all counties will require new installations to include septic tank risers.
What are the benefits of septic tank risers?
The main benefit of septic tank risers is that they provide people with easy access to the septic tank for an inspection or septic service.
Without septic tank risers, homeowners, plumbers, and pumping professionals can have difficulty finding the lid to access their septic tank. This means the homeowner or septic professional will need to dig into the soil, as septic tanks exist underground.
Septic pumping is a regular part of septic tank maintenance. A septic tank technician will charge more without risers if it is difficult to access. Therefore, risers end up saving homeowners a lot of money when it's time for professional services.   
Pros and Cons of Using Access Risers to Septic Tanks
An access riser to your septic tank makes it easy to inspect and also to clean. Making it easy to access the risers leads to lower labor bills. However, there are some downsides to access risers.
Access risers cost a significant amount of money upfront on the installation part of the job. Furthermore, they protrude out of the ground a bit, making them a hazard and sometimes an eyesore. That said, there are some ways to creatively hide septic covers with landscaping.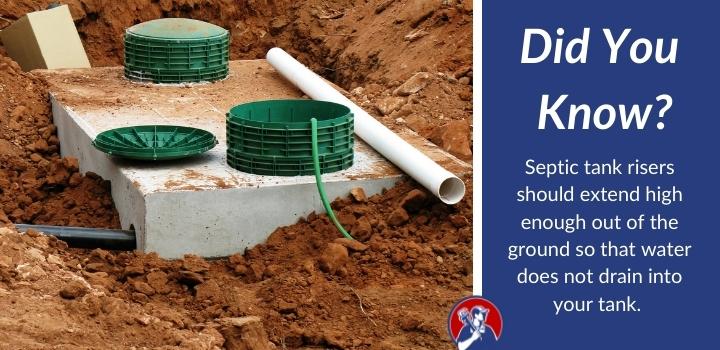 What are the Different Types of Septic Tank Risers?
There are different types of septic tank risers you can choose from based on your budget and preferences. Here they are, below.
Concrete septic tank risers
Concrete septic tank risers are difficult to install thanks to their immense weight. They are precast and are more commonly used in larger commercial settings. Concrete septic tank risers create a tight seal around the septic tank connection. These are among the more expensive options.
Polyethylene/Polylok septic tank risers
Polyethylene septic tank risers offer a lightweight, flexible solution. There are different brands, such Tuf-Tite and Polylok. These are inexpensive and easier to install. However, polyethylene septic tank risers sometimes need guidance for a tight fit, and the riser lids may crack and need replacement.
The Polylok brand risers are one of the most popular polyethylene risers on the market. 
PVC septic tank risers
PVC septic tank risers are one of the most popular options. They are lightweight and flexible, and they create a tight seal. PVC can last a long time, but many feel it's not the best solution when exposed to UV rays and wide temperature swings. PVC septic tank risers are not as commonly used. 
Concrete vs Polylok septic tank risers and lids
Concrete septic tank risers are considered less favorable than plastic septic tank risers due to the cost, weight, and labor charges to install them. While they create a tight seal around the septic tank connection, they weigh a lot! They may also find themselves susceptible to leaks if they are damaged or cracked during the transport or installation process. Stick with Polylok.
Homemade septic tank risers
It's possible to make your own homemade septic tank riser. You can find numerous kits online, or you can make them out of your own materials at home. Homemade septic tank risers, while cost-effective, offer a lot of room for error. Be careful to follow specifications carefully and use materials that will create a strong seal and hold up to the elements. 
Where to Buy Septic Tank Risers
You can find septic tank risers at your favorite online and retail stores, including Amazon and Home Depot. 
When shopping, you'll need to consider the diameter and height of the riser you buy.
Some of the popular brands include Polylok septic tank risers and Tuf Tite septic tank risers.  
Septic tank risers at home depot
Home Depot offers mostly the Aero-stream risers and riser kits. They come in a variety of sizes, typically ranging from 24" all the way to 44" high. The most common diameter offered there is 23.5", however, smaller options do exist. 
Buying Septic Tank Risers and Lids on Amazon
See the following septic tank risers and lids available on Amazon:
How to Install Septic Tank Risers and Lids
While your septic tank rests underground, and the opening to your tank is located at a below ground depth of between 4 inches and 4 feet. The exact depth can be determined by local code. 
You will dig enough to expose the septic tank lid. With the lid exposed, you'll put the trim ring in place with it resting on the top of the tank. You'll want to confirm the opening of your tank is safely accessible inside the diameter of the riser. 
Attach the riser to the ring and secure it in place using roofing tar or a similar, water safe compound. You'll want to use a sealant to ensure a tight seal. 
Next, you will "build" the risers on top of one another until you've reached an acceptable level above the round. These fit together, and you can customize the height to your needs.
Fill in the dirt around the risers, and attach the riser lid with screws.
Here is a great video for installing septic tank risers:
Special Notes on Risers:
How tall should a septic riser be?
A septic riser should be high enough not to allow groundwater to flow into your septic tank. While this may depend upon your landscaping and yard, the rule of thumb is that your septic riser should be at least 2 inches above ground. 
There is no official rule for this, and you will find some risers as high as 6 to 8 inches above ground level. Apart from keeping water out, you also want them high enough to ensure they aren't a hazard difficult for lawn mowers or children to see. 
How strong should a riser lid be?
Speaking of children, your septic tank riser lid should easily hold hundreds of pounds. Some septic tank risers are rated to withstand thousands of pounds due to special material construction. Despite these strengths, your riser lid should never be the only protection between a person and the inside of your actual septic tank. There should be a lid that you access on top of the tank itself, often concrete, that needs to be opened to access the contents of the tank. 
After installing septic tank risers, you may want to have a professional inspect your work. 
Hiding septic tank risers
While extremely helpful for septic tank inspections and pumping's, septic tank risers protrude out from the ground. Most homeowners don't appreciate the aesthetic appeal, so they attempt to hide the septic tank cover. 
It's not advisable to place mulch or other material right up to the tank if you have a low 2 inch profile. This material may fall into the tank itself during inspections or maintenance. You can consider pea gravel, and also placing baskets filled with flowers around risers to help provide ashetic cover. 
Septic Tank Riser FAQ's:
Are septic tank risers a good idea?
Yes! Septic tank risers make it easy to inspect and clean your septic tank. They only require a small installation cost, and you'll make up your money with easier, less expensive pumping services.
Can you add a riser to a septic tank?
You can absolutely add a riser to an existing septic tank. You can do it yourself or request your plumber's assistance at your next pumping.
How tall should a septic riser be?
Most septic tank risers come in heights of 6" or 12". As for how tall a riser should stick out of the ground itself, it can be as low as 2" to ensure ground water doesn't flow into your tank. Going a bit higher is often a better idea for good visibility. 
Should the septic tank riser be above ground?
You absolutely need the septic tank riser above ground to prevent groundwater from entering the septic system.
Do septic tank risers smell?
No! Septic tank risers don't smell. If they do smell, it could indicate a problem with the septic tank system. It may be time for septic tank pumping.
How do you install a septic riser?
Gain access to the top of the septic tank. Put the trim ring in place, and place the septic tank riser. Use sealant, and stack risers to the height you need to attain. Fill the dirt back in around the risers, and install the cover. While you can install a septic tank riser yourself, many homeowners may wish to have a plumber or septic tank company to do it.
Meet Your Plumbing Navigator

About Plumbing Navigator
We're passionate about all things plumbing, and love sharing tips, "how-to", and reviewing the latest products to help make your project a success!
Learn More Plumbing Tips
Want to tackle more plumbing projects? Check out these helpful guides!