Interested in purchasing a new Ruud water heater? You made an excellent choice! Ruud stands out for numerous reasons and offers a large selection. How do you know which Ruud water heater will work best for you?
In this PlumbingNav review, we will review Ruud as a company and its water heaters, showcasing the 5 best Ruud water heaters available.
Our Overall #1 Rated Pick Ruud Professional Ultra Series
Updated On October 1, 2023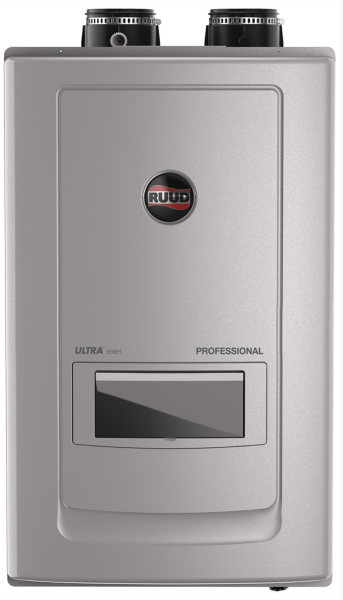 The highly efficient condensing gas tankless water heater comes with a .94 UEF efficiency rating and water flow speeds up to 11 GPM, depending on the water heater size you need. It also comes with a low emissions burner and advanced safety features to keep everyone in the home safe. The direct-vent ventilation removes gas fumes through PVC piping.
The 5 Best Ruud Water Heaters for 2023
What Are The Key Features Of Ruud Water Heaters?
Reputable Company/Customer Service: Ruud uses third-party testers to ensure that Ruud water heaters meet all requirements for government certifications to ensure the quality of all products.
You can call Ruud for help at 1-800-621-5622 from 8:30 a.m. – 5:00 p.m. CST. You can also reach out via a form on their website. Experts can help answer your questions about products and your warranty, and they can troubleshoot basic problems you have with the products.
Manufacturing Process: Ruud headquarters throughout the United States, Mexico, and Canada to make products and replacement parts easily accessible throughout North America. However, they also deliver to other countries through international distributors.
Ease of Use: Ruud makes products as easy to use as possible, depending on the product. Tankless units come with precise temperature control, a self-diagnostic system with easy to read codes, and an EZ link cable to connect multiple tankless units for a more effective whole home system. Many products also come with digital on-unit displays and EcoNet wireless technology.
Safety Issues: Ruud wants to ensure all products work properly and come with standard safety features, including temperature controls and safe ventilation for gas units. Safety features vary based on the model you choose, so research your specific product to learn more.
Overall Effectiveness: Ruud provides water heating solutions for both home and commercial use. Their products are effective and reliable, so you won't go wrong by selecting Ruud. If you do need help, Ruud provides customer service for homeowners.
What Are The Advantages and Disadvantages of Ruud Water Heaters?
Every company has strengths and weaknesses. Read about the advantages and disadvantages of Ruud water heaters.
Advantages
Experience – Norwegian immigrant Edwin Ruud developed the first automatic water heater in existence while working for Westinghouse, allowing average homeowners to enjoy the luxury of hot water. He took his invention and started his own water heater company in 1897, ever since the Ruud company improved and perfected their products to establish themselves as leaders in the industry. With their 124 years of experience, Rudd learned to provide high-quality and attainable water heaters based on the knowledge and expertise Edwin Rudd set as a foundation for the company so many years ago.
Large selection – Ruud offers numerous water heating solutions to accommodate every consumer's needs. Their wide range of products include multiple types of different water heaters, including gas tank water heaters, electric tank water heaters, hybrid tank water heaters, condensing tankless water heaters, mid-efficiency tankless water heaters, solar power water heaters, and point of use water heaters.
Disadvantages
Limited Vendors – One major disadvantage of Ruud water heaters is that they can't be found at a lot of major retailers. They can still be found at the store or online from time to time, but it's best to go to their website to find a contractor.
Shorter Warranty – Ruud doesn't offer as extensive a warranty as some of their competitors. In particular, you want to get the ProtectionPlus kit for additional leak protection. However, you do get a limited warranty when you buy a product. Make sure to register your product when you get it to make use of your warranty if you need it.
Our Review On the Best Ruud Water Heaters
See our top picks for the best Ruud water heaters, including our top pick, covering a wide range to suit everyone's needs.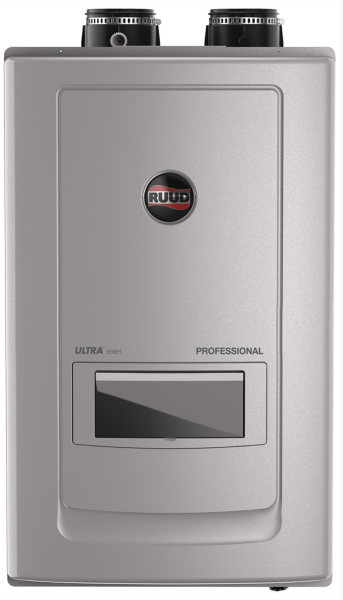 Our #1 Rated Pick:
The Ruud Professional Ultra series can supply hot water at up to 11 GPM and 199,000 BTUs at an ultra high-efficiency rating of .94 UEF with an ultra-low emissions ignitor, supplying up to 4 bathrooms with water at one time. Automatic recirculation technology helps keep hot water where you need it the most.
Pros
Ultra-high efficiency of .93 UEF
Low NOx emissions make your home safe and compliant everywhere
Up to 11 GPM
Cons
Direct ventilation limits installation options
Outdoor conversion kit sold separately
Professional installation required
How Does Ruud Compare Against Competitors?
Most people consider Ruud a more generic brand than some of the more recognizable options, so the products don't always get the same attention. However, they hold their own compared to the competition. Here is how Ruud compares to two of its major competitors.
Is Ruud better than Rheem?
Ruud and Rheem share a lot in common since Rheem Manufacturing makes both Ruud and Rheem products, and both companies are owned by Paloma Industries. Despite the connections, both brands offer unique features that set them apart.
Ruud comes to the table with more products designed for commercial use, and the products tend to be slightly more durable. Rheem products run more quietly, and you can find Rheem products more easily. However, Rheem products tend to cost slightly more.
Is Ruud better than Trane?
Like Ruud and Rheem, Trane has been in the industry for over 100 years, and all manufacturers both create similar products. However, Ruud products meet more people's budgets and win by a hair when it comes to energy efficiency. Trane created a more recognizable name for themselves, and they offer higher-end products that go through rigorous testing..
The Bottom Line On Ruud Water Heaters
Is Ruud a good water heater?
While not necessarily the first brand that people think of when looking into water heaters, Ruud makes great products at a reasonable price. Ruud feels so confident about their products they offer a limited 12 year warranty on the heat exchanger. They also emphasize quality and durability, so you know you will get a great product. Look for the EnergyStar sticker to ensure you get a product that will provide a return on your investment.
How long does a Ruud water heater last?
Ruud offers a lot of water heater products, and they have different life expectancies. Most tankless units will last 20 years while tank systems will last 10 years. Check your specific product to learn its life expectancy. Check the serial number to learn the age of your current Ruud water heater.
Who makes Ruud water heaters?
Ruud water heaters are made by Rheem Manufacturing. Both companies fall under the larger umbrella of the Paloma Group, headquartered in Nagoya, Japan.
Meet Your Plumbing Navigator

About Plumbing Navigator
We're passionate about all things plumbing, and love sharing tips, "how-to", and reviewing the latest products to help make your project a success!
Learn More Plumbing Tips
Want to tackle more plumbing projects? Check out these helpful guides!