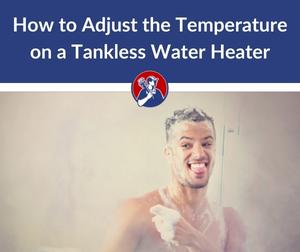 When it comes to adjusting the temperature on a tankless water heater, there are a few different things you need to take into consideration, starting with the fuel source.
The two most common types of tankless water heaters are gas and electric, so we will go over how to adjust the temperature of each type.
We'll also talk about what's the ideal water heater temperature and how to prevent scalding and severe burns.
What's a Tankless Hot Water Heater's Best Temperature?
Tankless water heaters offer an endless supply of hot water, but it's important to set the temperature carefully.
The best temperature is around 120 degrees F. If the temperature is too low, you may suffer from cold water in the shower, and if you use a higher temperature, you might scald yourself when you get hot tap water.
Remember, safety comes first, so, to prevent scalding, don't let your water heater exceed temperatures of 120 degrees.
Not only do you want to keep the temperature setting to a maximum of 120 degrees to prevent scalding, but a lower temperature will improve efficiency. The greater the discrepancy between the incoming water temperature and the water heater temperature setting, the more energy your tankless heater uses. (Not to mention, higher temperatures mean more standby heat loss.)
Tankless water heaters usually have a built-in temperature controller that regulates the hot water, but you should also check it periodically and while doing maintenance to make sure it hasn't gone out of adjustment.
If the water appears hotter or colder than the setting on the thermostat, you may need to replace a component or call a plumber.
Remember that tankless water heaters divide the water flow of hot water among all fixtures connected to the unit. If you only experience cold water when you have multiple fixtures running at once, you may need a water heater with a more powerful flow rate.
The true cost of a tankless water heater will be affected by the right efficiency match for your water heating needs.
If the water gets too hot, sediment buildup may have impacted the sensors inside the unit, causing it to run more often. This will also lead to your needing to flush your unit more often than normally called for.
Hot water temperatures can put excessive pressure on the water heater, potentially leading to a leak or complete water heater malfunction. This is also why it's important to select the right tankless water heater if your home has especially hard water.
Considerations Before Adjusting the Temperature on Your Hot Water Heater
There are two main types of temperature control on a water heater: analog and digital. Generally speaking, older gas models will have an analog control and newer electric water heaters will have a digital control.
Many modern gas water heaters have an electric ignition instead of using a pilot light. While these units require electricity and won't operate during a power outage, newer models may include digital controls similar to an electric water heater.
Always read the user manual to learn the details on how to change the temperature on your specific unit. While most water heaters have similar controls, a Rinnai tankless water heater may have slightly different instructions than a different brand, such as a Rheem tankless water heater.
How To Adjust The Temperature On A Tankless Gas Water Heater
Follow these steps to adjust the temperature on a gas hot water heater, such as many AO Smith models.
Start by turning off the power to your tankless water heater. This will ensure that you don't accidentally damage the unit while you're working on it.
Find the control panel for your unit. Remove the access panel to access the temperature controls (this may require a screwdriver). In most cases, a gas water heater's temperature control consists of a knob.
Turn the knob to the left to lower the temperature, or to the right to raise it.
Once you've made your adjustments, replace the access panel and relight the pilot. You should see a noticeable difference in your hot water within a few minutes.
How to Adjust the Temperature On a Tankless Electric Water Heater
Most tankless electric water heaters have digital controls that are easy to read and adjust, and the popular off the grid models will simply have a dial.
The first thing you'll need to do is find the thermostat on your tankless water heater.
Keep in mind that most modern electric water heaters utilize a dual heating element design for optimal efficiency. Each heating element will have its own thermostat – one on the bottom of the unit for the lower heating element and one toward the top of the unit for the upper heating element.
Once you've found the thermostat, you can use the arrows to set the desired temperature on both control panels. You must adjust the temperature on both control panels. One will not automatically adjust after you change the temperature on the other.
Once you've set the temperature for both heating elements, make sure to press the "Set" or "Confirm" button so that your changes will take effect.
Here's how to adjust the temperature on a Rinnnai tankless water heater:
Here's how to adjust the temperature on a Rheem tankless unit:
Smart Tankless Water Heater Temperature Controls
Smart water heaters are units that include connectivity capabilities. You can find gas and electric smart tankless water heaters, but they are more common in electric water heaters than gas options. They are becoming more common in the point-of-use marketplace. Adjusting the temperature of a smart tankless water heater should be pretty straightforward.
Most smart tankless water heaters come with mobile apps that allow you to control the temperature of your hot water from your phone or tablet. This means you can always have the perfect temperature of hot water at your fingertips, no matter what time of day or night it is. Use the app and look for the specific temperature settings.
Some smart tankless water heaters come with weather-based controls that automatically adjust the temperature of the water-based on the outside temperature. This can help you save energy and money, as you won't need to use as much hot water when it's cold outside.
Finally, some smart tankless water heaters even come with vacation settings that allow you to turn off the unit or reduce the temperature when you're away from home for an extended period of time. This can help save even more energy and money.
Related: Thinking about buying, or wondering how to maintain your unit? See these tankless water heater tips.
Final Thoughts on How to Adjust The Temperature on a Tankless Water Heater
These steps should help you adjust the temperature on your unit, but of course, you should always consult the owner's manual of your specific product if you have questions.
It's important to follow safety protocols as well, and if you're not sure what the safest temperature is for your tankless unit, you can always call the manufacturer's customer service line. Below are some numbers of the most popular tankless water heater companies.
Tankless Water Heater Customer Service Number FAQ's
What is A.O. Smith's Customer Service Number?
You can reach A.O. Smith's customer service and warranty department at (800) 527-1953.
What is Bosch's Customer Service Number?
The Bosch appliance warranty department can be reached at 1-800-944-2904
What is Navien's Customer Service Number?
Call Navien at 1-800-519-8794 for questions about your tankless water heater.
What is Rinnai Customer Service Number?
You can reach Rinnai's customer service number at 1-800-621-9419.
What is Rheem's Customer Service Number?
Call Rheem at 800-621-5622, Option 4 for tankless water heater questions.
What is Ruud's Customer Service Number?
Ruud's tankless water heater support number is 1-866-720-2076
What is Westinghouse's Customer Service Number?
Call (774) 417-6000 for Westinghouse's customer support.
Meet Your Plumbing Navigator

About Plumbing Navigator
We're passionate about all things plumbing, and love sharing tips, "how-to", and reviewing the latest products to help make your project a success!
Learn More Plumbing Tips
Want to tackle more plumbing projects? Check out these helpful guides!